Ghee for Wellness: A Healthy Fat Webinar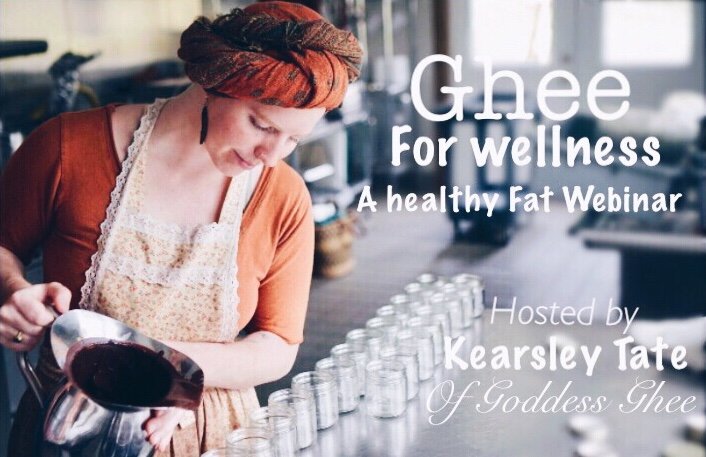 Ghee for Wellness: A Healthy Fat Webinar
Ghee for Wellness: A Healthy Fat Webinar taught by Kearsley Tate
Join Ghee Goddess Kearsley Tate for an educational webinar about the healthful benefits of fats like ghee. Steeped in ancestral ways of nourishing the body + modern scientific research, this webinar covers a wide range of topics including:
::Eating grass-fed ghee for::
Hormone Health

Ayurvedic wisdom

Mood & Emotional balance

Digestive Health

Dental Health

Cholesterol: the myths & the facts

Debunking the "fat fear"

The relationship between declining use of animal fats & rising health issues

Emailed PDF of class notes + recording of class + coupon code for ghee purchases!
This class webinar will be hosted LIVE on ZOOM November 15th from 2-4pm EST with a QA section + is recorded for those who want to watch at their own leisure after the date. Email will be sent out with a link to the zoom class, a PDF download, + a recording of the class sent out after.
About Kearsley:
Trained in Ayurvedic Medicine, Herbalism, Nutrition, & Folk Medicine, Kearsley is a passionate health educator on our Goddess Ghee Team. She works apart of our Kitchen Witch Crew crafting every jar of Ghee & pours her energy into sharing our products + educational material to our beloved customers.